RetrogradeAnalysisProblem7
This problem is a Retractor Problem. The rules described at Retractor Problem apply.
An easy problem to start with. I tried to present this one at goproblems.com before, but it didn't work that well...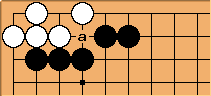 The last white move was a mistake, Black could have killed the white group by playing at a now. But since he is a generous person, Black allowed White to take this last move back. White did so, and thereafter played a move which gave his stones life.
a) What move did White take back?
b) How did he live after that?
Or, in short, the stipulation is "White to take his last move back and live instead!" ;-)