Retrograde Analysis Problem 4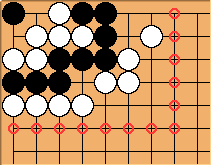 Black has won the capturing race and hence captured the White corner.
It is claimed that before reaching this position, a total of 16 Black and White stones were made prisoners within the corner area marked by

. Of course, some of the moves made before reaching this position may be outside the

area, since the remainder of the board is not shown.
Is the claim possible? Whether the players have made the best possible moves is another question, but is outside the scope of this problem.