Psychological Tesuji / Black keeps sente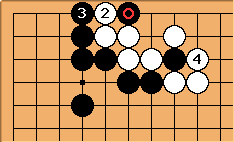 If White responds to

with the seemingly natural move of

, Black would keep sente because

puts the White group into atari and forces

.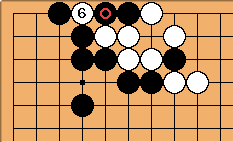 After

, Black could capture back, but that would lose sente.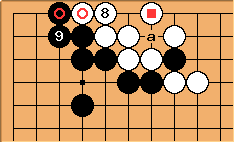 To retain sente, Black could play

elsewhere instead, which allows White to follow up with the sente sequence of

-

. In terms of points, the resulting position is equivalent to the alternative of allowing White to play at

in sente earlier (Black captured one White stone, while White has captured two Black stones and has an extra stone at

). But this position is worse for Black because the ko threat at a is lost (see aji keshi). If Black wanted to take sente, it would be better to simply play

elsewhere rather than playing out the entire sequence from

to

, which loses one ko threat for nothing.
(Note: Technically,

in the third diagram is wasting a ko threat as well. If Black is not going to follow up locally with

, it would be better to play elsewhere as early as

. But even then, White can still play

at

, which again forces

at

and leads to the exact same final board position. Besides, this result is still inferior to the alternative of playing elsewhere with

from the very beginning, as

is a smaller ko threat than a in the scenario where

is absent.)
---
Hyperpape: I'm confused, since the parent page says that this play is not incorrect and keeps sente, but this page seems to directly contradict that.
MrTenuki: I think what happened is that someone found a refutation to the trick move. For the sake of completeness, I reintroduced the information from the previous version of the page.
Thanatos13: ... ... this seems funny. after 5, that is atari on the big group, thus 6 is completely necessary. if you wanted sente, then tenuki right away.
MrTenuki: The question is whether Black can take sente with , not whether White can take sente with ...
Thanatos13: Oh, okay then. Sorry about that. A couple of growth points though. If you're not going to play at , is dubious and you have really just wasted a ko threat. in both diagrams are also not as big as just taking the laddered stone.