Professional Dangos
Dangos can be found by using pattern search in professional game databases. The following examples have been found in the Winter 2007 release of the GoGoD CD.
---
3x3 dangos
There are 244 3x3 dangos in the database (out of 50 078 games) including this interesting corner position: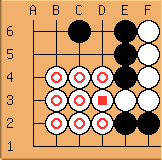 Cho Chikun (B) vs Matsumoto Tokuji (W), 1972-02-10, Black wins by resignation
---
3x3 dango analysis
Considering symmetries, a 3x3 dango can be created with the 3 moves described here. We are interested in the percentage of wins in each case.

No 3x3 dango has been created by playing at

.
Considering the winning ratios, it doesn't seem a good idea to create such shapes.
---
3x4 dangos
There are 12 3x4 dangos in the database including this efficient living shape:

Takemiya Masaki (B) vs Yamashiro Hiroshi (W), 1986-06-18,19, Black wins by resignation
---
4x4-1 dangos
There are no full 4x4 squares in the database, but it's possible to find 15 stones of the same color in a 4x4 square in this position:
Rin Kaiho (B) vs Hane Yasumasa (W), 1985-07-25, White wins by 6.5 points
---
5x5-n dangos
To find bigger dangos, it is necessary to relax the constraints and remove several stones in the 5x5 square. The following example is a 5x5-6 dango (19 stones of the same color in a 5x5 square):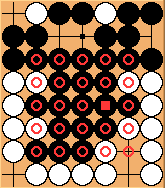 Suzuki Ayumi (b) vs Nakazawa Ayako (W), 2003-12-22, Black wins by 11.5 points

Is it possible to find a better result?