Positional Judgement Problem 4
Patrick Taylor: This position is from a lowly 12 kyu blitz game, but I still think that it has a place here. Previously, these were the kind of situations that would cause me a great deal of distress, but since reading Positional Judgement: High-Speed Game Analysis my thinking in such situations has changed.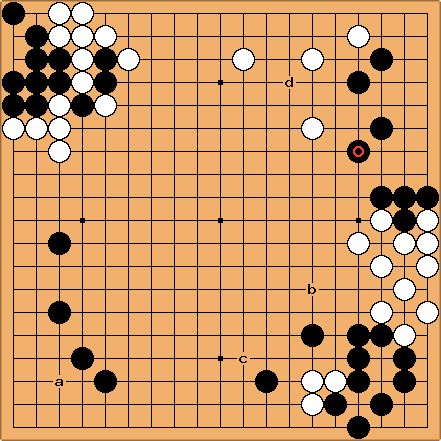 As you all know, blitz is played fast and loose but I felt that now was time for decisve action. Black had just played the marked move to secure a reletively large upper right corner and I suddenly realized that I needed something more to prevent the game from getting beyond me.
I didn't really have time to think, and played on my intuition. But I'm curious as to what SL thinks. I have some suggestions for you who are interested in choice.
a: 3-3 Invasios
b: Jump out. I figured that this was a good way to take advantage of the mess on the right.
c: Shoulder Blow? Invasion? Looks severe.
d: Weakness in my formation. If black gets in here, things will get messy.
I'll let you guys take a crack at it before I tell you what I did. It's more fun that way.