MoGo/Nosekis
MoGo Nosekis are sequences that are not joseki, because they are bad, but are nevertheless regularly played by MoGo. If you find such a sequence, you can document it here.
4-4 attach and cut.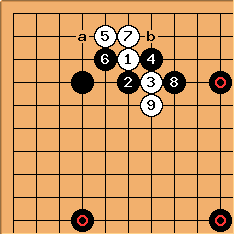 Herman Hiddema: MoGo (black) has played this sequence against me a few times. Up to

is normal, but

is considered a bad move.

is also often bad, because it is an atari against a cutting stone. MoGo has played both a and b as a followup after this. In both cases the 3-3 point is an excellent move. (This is with 9 handicap, hence the marked stones)