HolIgor/Mistake 1 Conclusion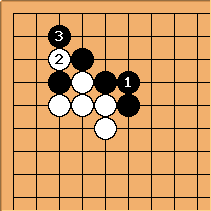 [10]

with sharing the corner gave a far better result.
tderz Now Black has two cutting points at a and b. Black should decide for himself whether he wants to take sente or not after .
tderz [20] This is big in the corner & gote. White would like to play the important point c, starting to use the aji b.
tderz If Black wants to take sente, there are at least two ways: the left, and the right (which looks like gote).
tderz On the left, white takes the big point in gote. On the right, Black has preserved the aji to extend with , which works well with a black stone on c. Perhaps this are too many ifs. Above [20] is quite straightforward cash.
---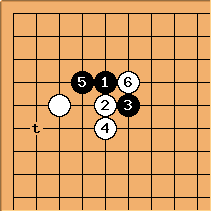 tderz Perhaps above in [10] there was an association with a common 4-4-point Joseki?
This

is common, White cuts anyway with

(is this hamete?) and there are nice variations where Black should play a tesuji at t later.
Here on Senseis, point 3: Mokuhazushi-high_approach-Attach_&_Crosscut