HexkidGame401439/Variation65
Variations on move 65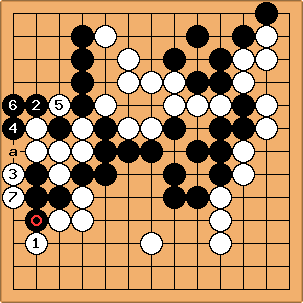 captures
White gained a liberty with the capture and Black has no time to win the capturing race! Black can't play

at a because he'd put himself in atari.
Chris Hayashida: Close, but no cigar. Keep trying...
Gronk: No, the job is done. This page is to show that this line doesn't work. The correct play has already been shown on HexkidGame401439.
hexkid: Whew! Chris had me looking at all moves (however unlikely) to how Black could live. For the moves I tried before, the diagram above was the most challenging and that's why I chose it for SL.