Gokyo Shumyo, Section 1, Problem 90 / Attempts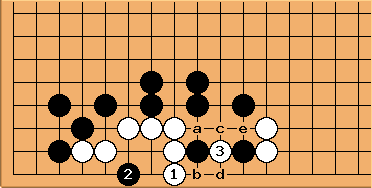 The white group on itself does not live, so we have to try to make a move like

sente on the right. It certainly threatens to live (if white plays at 2, she has two eyes, so the real problem comes after

. Now

looks like tesuji. Unfortunately, black has various ways to answer this. a to e all fail: if black plays a or b, white takes the other, similar with c and d. Black e is answered at a.
The most interesting answer is

here. It seems like in the sequence to

, black has managed to turn the position into a ko, but white has the move at

to save the day. Black cannot connect.
I think that the order of

and

in the first diagram can be reversed, by the way.