Gokyo Shumyo, Section 1, Problem 5 / Solution
Note: The first problems in the series mainly serve to explore the properties of 1-2 and 2-2 points.
Solution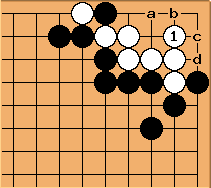 The 2-2 point is again the solution. As in Problem 4, a/b, and c/d, are miai for life.
Failure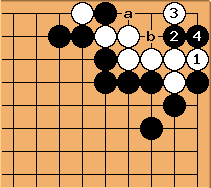 It is very tempting to block at

here, because that seems to make more points while living.
However, Black plays at the vital point

; and after White's strongest resistance with

,

makes miai of a and b to kill White.
---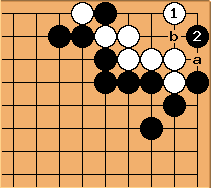 fails to make life. After

, Black connects out at a. Should White block at a, Black plays b and we reach the same postion as if White had played a to start. Please compare with the preceding digram: wrong (i).
---
---
Back to Gokyo Shumyo Tsumego Series
Go to Problem 6