Gokyo Shumyo, Section 1, Problem 3 / Solution
Authors:
---
Solution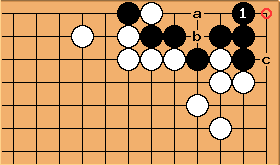 After

, which makes an eye at the circled point, a and b are miai for life.

at c also lives.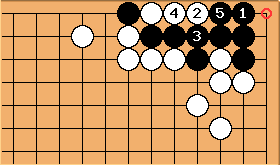 It seems as if

creates a false eye, but the capture of three stones on the first line with

results in a real eye.
---
If White captures a Black stone with

,

or a makes a second eye. However, if Black doesn't respond, White a kills the group.
---
Failure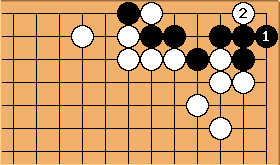 at the other 1-2 point is wrong. With

, Black is dead. Even if Black is allowed two moves in a row, he can't live.
---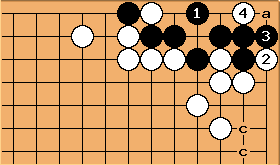 When Black plays

here, White kills with

. (

at

is an inferior way to kill, because after Black

and White a, Black gets some concrete threats at c.)
---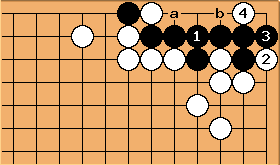 Connecting with Black

, as shown here, is also wrong.

and

leave a and b as miai for the kill.
---
Alternative solution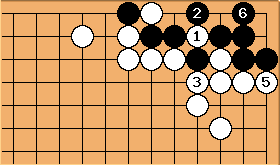 To this way of living, White can seal the right side in sente.

is necessary to avoid ko.
---