Gokyo Shumyo, Section 1, Problem 16 / Solution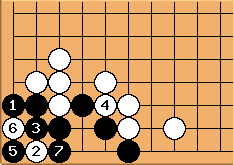 Throwing in at 5 is key to life. (This is an example of oshitsubushi.)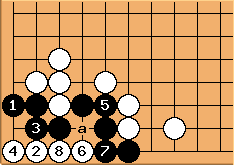 If White continues to destroy Black's eyeshape, she runs out of breath after Black 7. Black will have to connect at a later, but still his eyespace is almost filled with a straight four shape, giving life.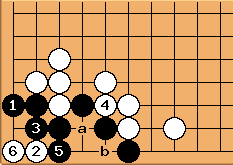 White 6 makes miai of a and b to destroy the second eye.
---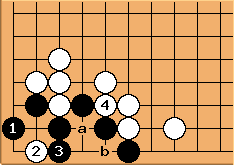 After 4, a and b are miai for killing the corner.
Black will eventually have to connect at a and b, leaving his eye almost filled with three stones, so he dies.
---
---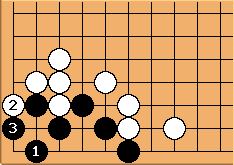 Black 1 here obviously makes only ko, and ko is not good enough.
---
Go to Problem 17
Back to Kanazawa Tesuji Series