End of the cosmic game
---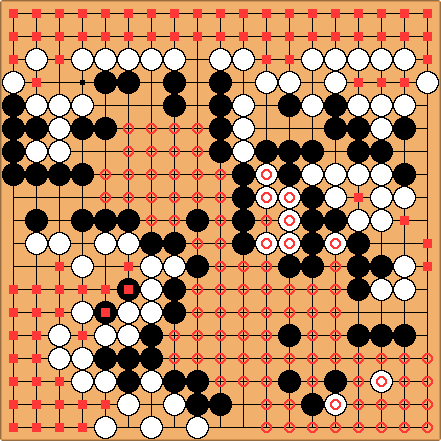 Dead stones and assumed territory are marked.


According to my counting, White has 82 points/+dead black stones on the board, +6 captured stones and 5.5 Komi, adding up to _93.5 points_
Black has 98 points/+dead white stones on the board, +2 captured stones, adding up to _100 points_
This lead is too big to continue, by professional standards.
---
Some things about this final position are striking:

This might seem strange, but it is quite frequently seen in the games of Takemiya Masaki.
Do pros seriously end games in positions such as these? There are still some boundaries to fill, each of which is worth at least 1 point to play. ~srn347
Anonymous: Yes they do. Pros read out the endgame and, though there are moves that make points, there are no moves that would allow the difference in score to be made up.
---