Encyclopedia Of Maek
맥의 백과 (Encyclopedia of Maek) is a Korean book on maek written by 심종식 (Shim Jong-sik) and published by the Hankuk Kiwon (ISBN 89-7990-002-3). Each section illustrates a different maek (tesuji for all intents and purposes) and each page consists of a problem diagram and three solutions, which are generally some combination of failure (labeled 실패), solutions, continuations, and variations.
The maek range from relatively simple to fairly complex, with some of the more difficult ones involving multiple maek in order to get the correct answer.
Robert Jasiek has a

review.
Example Problem
Problem 1 from the section on 젖히는 맥 (maek of hane) (page 139, they actually get easier after this).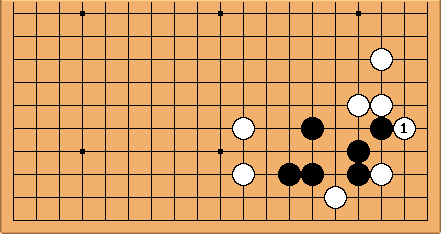 The text reads:
백이 1에 젖혀왔다.
흑의 응수가 어려운 장면.
흑이 피해를 최소로 줄 이는 맥은?

(loosely translated): White has played a hane at 1. It looks difficult for Black to respond. What can Black do to minimize the damage?
See the /Solution.