After I had been playing go a bit more than a year I discovered the Nihon Kiin main branch at the Tokyo train station. (The main branch has since moved to Ichigaya.) It was the first go club I had been to. At that time they were very encouraging to Westerners, and they gave me a free membership.
One afternoon several weeks later I saw an elderly bald gentleman seated by himself at one of the long tables. He seemed a bit lonesome. Then a middle aged man came and joined him. A while later the middle aged man came over and asked how strong I was. (He spoke in poor English and I replied in poor Japanese.) I told him I was 2 kyu and he went back over to talk to the elderly gentleman and then he came back and said that the elderly gentleman would be willing to play with me. (I gathered that he was a man of some importance.) I agreed. The middle aged man made the introductions. I had not heard of Iwamoto. I had heard about Honinbo, but that title was never mentioned. Iwamoto did not address me directly. The middle aged man told me to put nine stones.


We soon arrived at this standard nine stone opening position. I had never taken nine stones, however, so this was new to me. In my experience, I could win if I did not lose too many groups, so my first concern was to secure life for the

stone.
Tas: May i ask, why did't you play Ba (usually followed by Wb) rather than the IkkenTobi, isn't that considered superior in a nine stone game?
Bill: Sheer ignorance.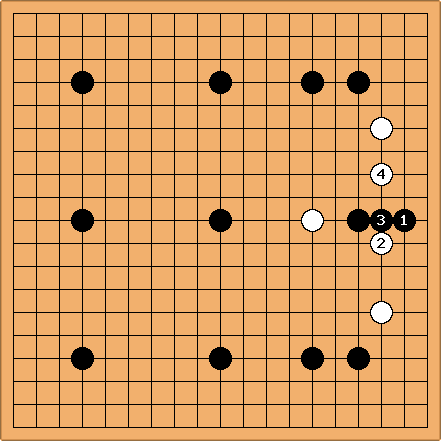 I had heard about playing on the point of symmetry, so I first considered

. But then White could peek at

, which (I thought) would force

, and then after

I did not see how to live.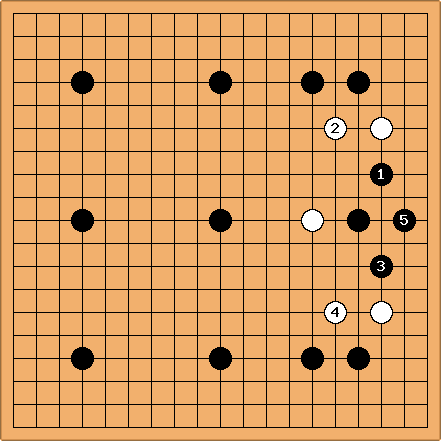 After some thought I came up with this plan. I would play

and

with sente, and then live with

. (Looking back I think, what a blend of savvy and stupidity! ;-))
I do not know how long I thought. Probably a couple of minutes, since I tried to determine whether

was necessary. Anyway, when I played

Iwamoto looked up at the other man and spoke into his ear. The man told me that I was not strong enough to benefit from a game with Iwamoto. As he ushered me from the table he said, "He is very strong player."
I tell this story not to complain about Iwamoto. He was gracious to offer a game, and I do not think that he wanted to wait forever for me to make bad play after bad play. But maybe this tale will reassure players who feel that their play is as hopeless as mine was. Improvement is not only possible, but likely. :-)