prev
Black: Benjamin Teuber
White: Another upper D-class insei (sorry, I'll add the names sometime)
Komi: 6.5
Time: 10 minutes plus 30 sec/move byoyomi
Result: Black wins by resignation
Comment by O Meien-Sensei and Kenmochi-Sensei. Most comments are just on my moves, so some bad white moves are left uncommented.
This game was something like a turning point for me, as before, Kenmochi-Sensei was just shouting (like he does to everyone) at me about my bad moves. After this one, I was much praised for the first time . . .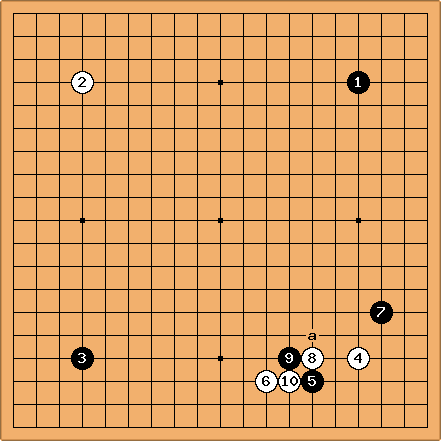 : Feels a bit soft, just as if Black wants to avoid confrontation. But because of the high komi, Black is now the player that should initiate battle. a is the move that fits with that spirit.[1]


: Strengthens White, so for later fighting on the left side it can be a minus.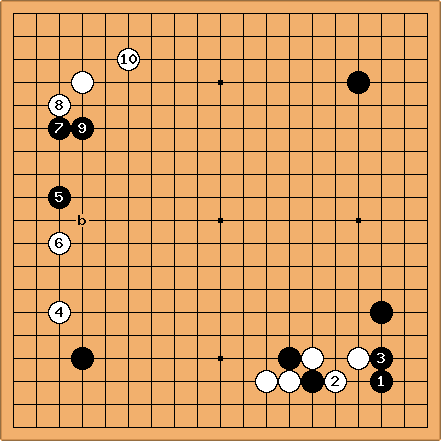 : White should play at

(I'm too lazy to add the variation now, but I guess most of you know what will happen . . .)


: The proper side to play - b would show a bit more fighting spirit, though.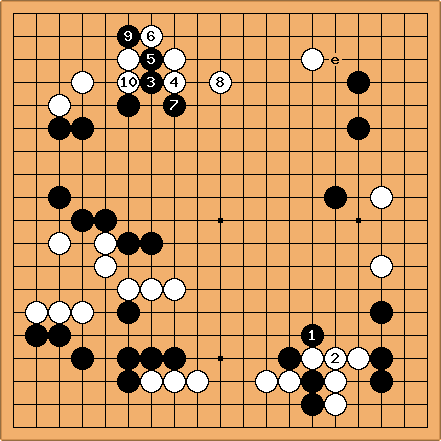 : My idea was to play at

after

, which is the right plan. Just the

-

exchange itself is aji keshi, so playing at

immediately is better. Kenmochi-Sensei would play e.


: Very bad.


: Silly! To become stronger, I will have to abandon this kind of funny idea.


: Has to capture

.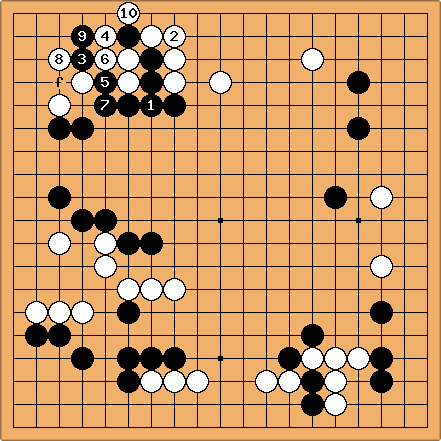 : Stupid! At f is the tesuji here.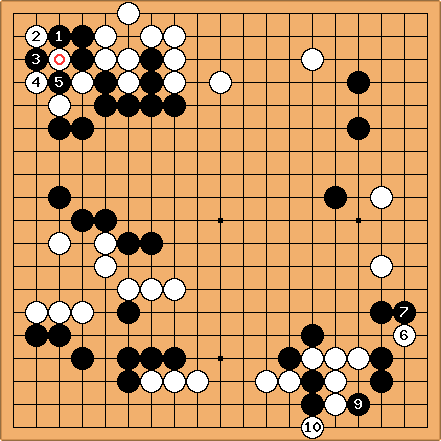 : If White plays at

instead, he wins the capturing race.


:

would give a peaceful result (I'll also add that variation once).


: Not a good ko threat.
Here the comments stopped as the game is decided. Except for my funny moves at the upper left corner, everybody was really content with me. But, of course, the opponent was really weak, so we'll have to see how I do in C-class . . .
---
[1] See pincer counter to mini-chinese for this interesting idea. Charles