Beginner Exercise 38 / Solution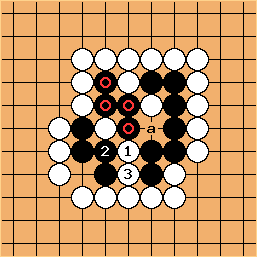 Atari against the group of marked stones. Black has to reply at

or a, and White connects at

. The eye becomes false and Black cannot live.
Jacob4Jesus: I think

in the first diagram is a mistake. If

is played here then

can only be here and

secures three eyes.
symplicity: Count how many liberties each of black's groups have after


. Because

can do something different.
stoned:

would be at a, removing the upper group of stones, so all of black dies.
---
---
ajisubarashii Black would reply at

, capturing two white stones. Then the only way White can make progress is to play at

, as otherwise Black plays at

himself and makes two eyes. After White's

, Black captures with

. Then a and b are miai for Black to live.
---