Beginner Exercise 35 / Solution
lavalyn says this is a cool problem with an interesting final result.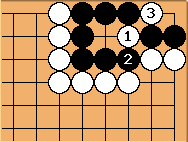 Black looks sort of alive, but actually is caught in snapback from both directions!
unkx80: Heh. This is called a double snapback. =)
Muadhdib : so, after

, 2 and 3 are miai, right?
LukeNine45: Correct.
Black can otherwise secure two eyes at b if White plays a or c.
Radvendii: this is a good example of playing where your opponent wants to play
adminh?: Not exactly. If it was Black's turn, he'd want to play at a and live with 4 points.
Bill: Plus the chance to capture two White stones. :)
---