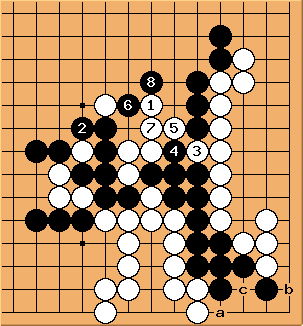 jts: After

, a and b are miai for the kill.
tapir: After

and

white still captures but has to throw in at c, which is the correct technique.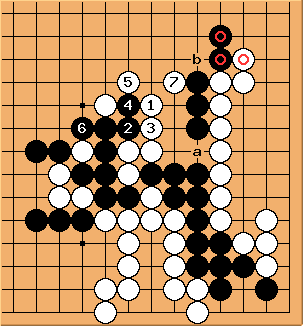 unkx80: I am not convinced of your solution. What about this? Reuven: Oh I was actually thinking of the solution proposed here and totally missed this as well... It seems the problem was wrong :) Perhaps if these (circle marked) stones are removed, it'd work? Or do you guys have a better fix?
tapir: What about next, preparing a cut at either a or b?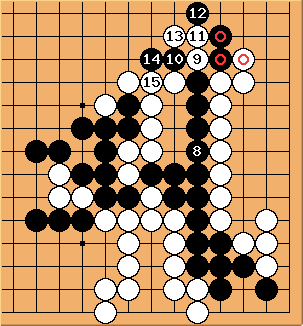 Anonymous:

looks like aji keshi if the ladder is no good. Also making bamboo instead of directly connecting reduces the libs on white's cutting string.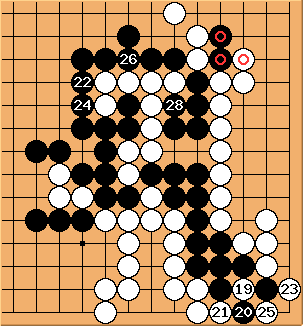 W connects around the corner, assuming B can't win the ko at 7. If W's bottom group was dead instead of alive it would make a wicked problem.
MrTenuki: It seems to me that White can avoid the ko altogether under this variation. But we still can't count this as a solution because it depends on a ladder being broken.
---
MrTenuki: Here's my SDK Attempt.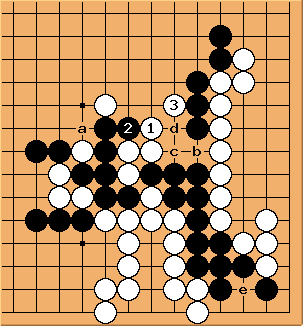 If

is played at a, then

at b-

at c-

at d captures the corner because White will have time to play e. If

is played at b, then

will be played at a. So Black resists...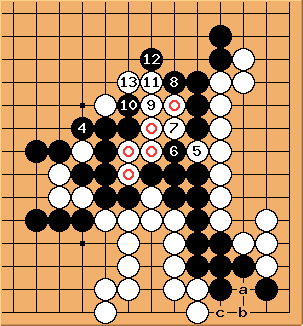 Since White has the a-b-c sequence to capture the corner, Black needs to capture the marked stones in a ladder...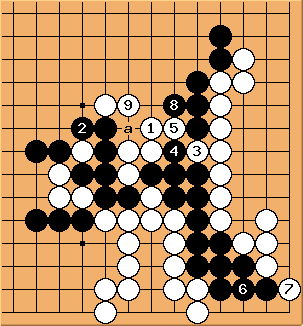 fivebells?: Sure I'm missing something. Would be grateful to learn what... If

at

,

at

, and White connects through on those stones instead.
togo: When Black foolishly answers with

, this indeed could be a continuation. Anyway, Black had no chance then. And indeed Black always can connect the big dumpling, with White catching the small group afterwards. But here is a better play:

on a (see above).
---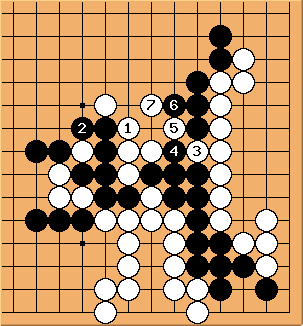 hp: A beginner's try... Ends in a ko fight, I think?
-

above

instead of above

. W cannot save her cutting stones.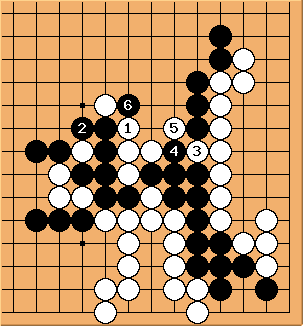 Togo: As said above.
---
togo: I moved fivebells' diagram to an earlier position; it was already answered there.
So, next try! There is a solution.
---