BeginnerExercise271/Solution
ProtoDeuteric:

takees the corner eye away, and white is either too slow or lacks the liberties necessary for a proper response. I think "a" is also possible, but there is potential ko considerations that make the situation more messy than it needs to be.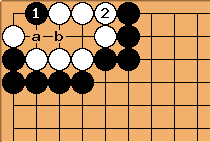 togo: If

here, then

on a or b kills by damezumari.
togo: If

here, then

kills by leaving only one eye.
Anonymous:

leads to ko. If white wins the ko, she will capture

and live with two eyes at

and

. If black wins the ko, he will connect at the marked spot and thereby kill the white group.
---