BeginnerExercise240/Solution
Karl Knechtel: D19 is best for Black, leading to ko.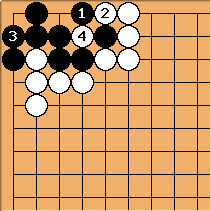 takes ko first. If 2 at 3, 3 at 2 lives.
As mentioned, D18 fails (I suspect that was a typo though):
NickGeorge: Doesn't D18 get answered by A18?
Hiker: I agree with Nick, D18 gets Black no where if White answers at A18. D19 doesn't seem to work either, as long as White answers at E19. Black could answer with A18 and live only if he could win the ko fight ... but that seems unlikely.
Yes; that's what I was saying. The second diagram shows d18 failing due to a18. d19 offers a ko which is all that can be done - all other moves fail outright.
---