Beginner Exercise 232 / Solution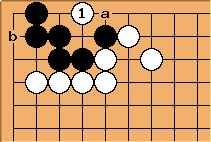 hits the vital point. Now a and b are miai for the kill...
Black should not play either a or b now, since both are utterly useless. However, either move can be used as a ko threat later. If black plays one and white ignores it because the ko is more important, black plays the other and saves the otherwise dead group.
---