Beginner Exercise 210 / Solution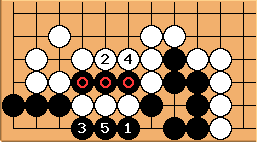 The most important move in this problem is

, failing which, Black dies. Although Black cannot win this capturing race,

and

bridges under and joins the two groups together. There is one eye at the corner and one eye at the side, so Black lives.
In the solution diagram, the order of

and

is interchangable.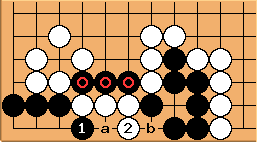 The order of the hane at

is wrong. This time,

can descend and now Black dies from shortage of liberties - both approach moves at a and b will put the stones into self-atari, so this is a case of double damezumari.
---