Beginner Exercise 208 / Solution
I think it might be easier to present the failure diagrams first. There are two main failure diagrams.
Failure
If

, then

destroys the eye. Capturing at

only allows

to kill by a throw-in that leads to a false eye.
With the above failure diagram, it is now easy to explain this failure diagram.

here is greedy, and

is the correct way to kill. It transposes back to the previous failure diagram.
Note that

must not be played at a, which I leave as an easy reading exercise.
Solution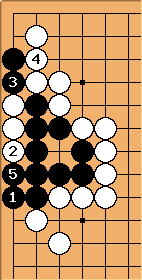 Descending at

is the correct solution. If

tries to remove the eye, then

and

captures three stones and makes the eye.

and

are miai for life, so Black lives.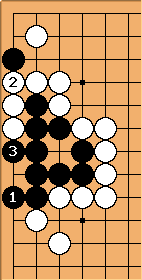 The main line is this diagram.

connects and allow

to live, and both parties are happy. This should be what is played in real games.
---