Beginner Exercise 182 / Solution
Seems white needs another move here. With this

, white lives in sente (with respect to

).[1] Without

by white, white is short of liberties after black ataris at a.
LukeNine45: Right. Here is the threat played out.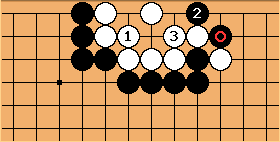 JoelR: This

lives, but with less area than the best solution. If

at

,

at

.
---
[1] Bill: Saving

is small by comparison. Better to think of this as a gote.
---