Beginner Exercise 144 / Attempts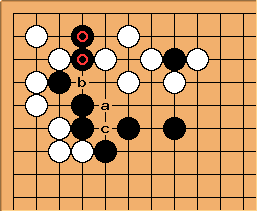 Zephi: This one seems a bit complicated, but I can see at least two possibilities. Focusing on only the two marked stones, white needs B to keep them from escaping, but can't play there without being immediately captured, so I think white would have to first set up a ko at point A. After this, I think that B and C are miai for capturing, though white would need some good ko threats to make B work. Here's how I think both cases would look: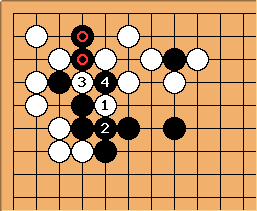 In this case, black takes first in the ko, so white needs to have some really good ko threats to make this work.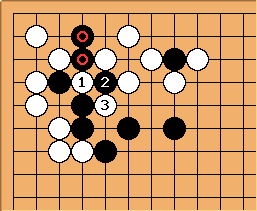 Again, Black takes first, and white needs a very good ko threat. (

seems like it would only cause black to fill in the ko in which case, playing at c is no longer an option for white.)
Well, if this isn't the solution, I hope it's at least on the right track.
---
Malweth: Going with your last diagram, White does take ko first. If

instead elsewhere,

at

kills.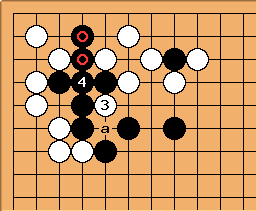 unkx80: Sorry, but Zephi's solution is correct. In your diagram,

can connect, but

cannot play at a without putting himself into self-atari.