Amateur Honinbo vs Pro Honinbo 2002
The 2002 amateur Honinbo was Samejima Ichiro who was appearing for the first time. The professional Honinbo was Kato Masao returning after 23 years.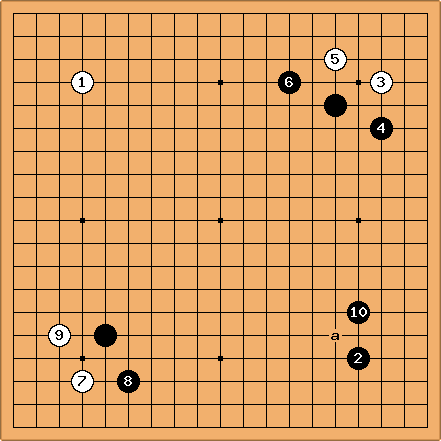 Since 1995 the tournament has been played with free placement of the handicap stones. Black chose to place them on the 5-5 points in opposing corners. I am surprised that Black did not take the opportunity to play 2 at a.
White immediately settles the situation under the two 5-5 stones.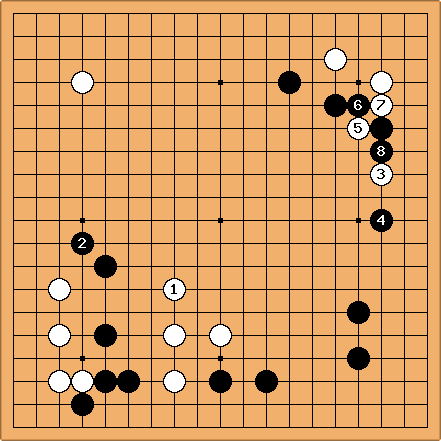 The game proceeded with heavy fighting and several large ko fights. Black won by resignation after 282 moves, preventing Black from being beaten down to three stones handicap (while giving 5.0 points komi). Next year the amateur Honinbo will play with two handicap stones and receive 2.5 points komi.
The game is on the GoGod CD-ROM.
See Pro Am Honinbo Match for each year's results.
---
[1] Bob McGuigan: According to the Japanese go yearbook this komi system began in 1989. Many changes in the past don't follow the rules given. For example, in 1964 the handicap didn't change after black won with 2 stones and no komi, and between 1971 and 1972 the handicap changed from 2 stones with no komi to 3.5 reverse komi.
Dave: Unfortunately my quite vague memory is that I took this material from an article in Go Weekly in 2002 so I can not check whether it said how far back the current system goes.
---