Alexander Yoshi - GoProblem1 / Solution
How about?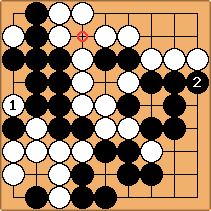 White will win by 2 points (assuming no prisoners captured earlier)
Another question - how come it's 2 and not 1?
---
KarlKnechtel: Surely Black 2 at the circled point is much better?
AlexanderYoshi: Clearly there has been a disparity between the last two diagrams. I've corrected this. Another interesting question is if Black plays at the squared point in the original diagram.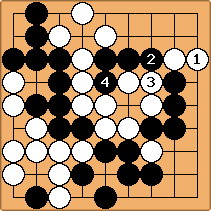 DaveSigaty: White 1 in diagram 2 is wrongly placed, isn't it? Black 2 here is possible because if White intercepts at 3, Black 4 catches White short of liberties.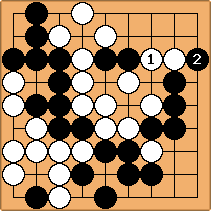 Therefore White has to hold back at 1, so what happens after 2?
Hmmm ... White loses? I'm not sure. This needs reading out. Thanks for the fix.
-Alex