4-4 point low approach one-space low pincer, upper contact tsukehiki
This is a sub-page of 4-4 point low approach one-space low pincer, upper contact, hane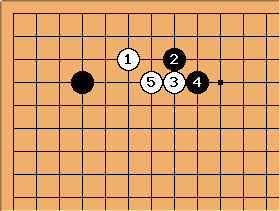 The attachment of

is not a very common answer to the one-space low pincer of

, but it is sometimes played.


White is pushing against Black's stone to get a position facing the center. The effect of this will however also be that Black becomes thick on the upper side. Because of that, this move is only advisable if White has the opportunity of building a moyo on the left side while Black's thickness on the upper side will be either ineffective or overconcentrated.

is the most common answer, after which White can choose between

and a. After

, Black has various options.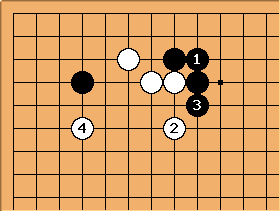 is a solid move: Black becomes thick on the upper side. The moves to

are one likely continuation.
(Charles: Playing

directly at

seems to be the common way in pro games.)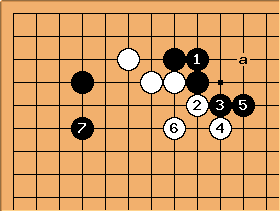 Here White continues her center-oriented strategy. Black has been able to play on both sides, but he does have to deal with the aji of White a.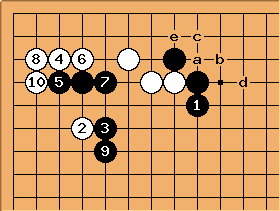 Stretching upward with

looks to the center, but makes less territory (White is left with the cut at a, which is probably followed by Black b, White c, Black d, White e). Again one possible continuation is shown.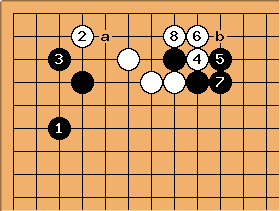 Using

to defend on the left side is understandable and common. The sequence to

is a joseki. White makes the exchange of

for

before cutting at

, because otherwise Black a will be a painful move for White.

threatens to capture the white stones by playing at

, and is much better than Black b.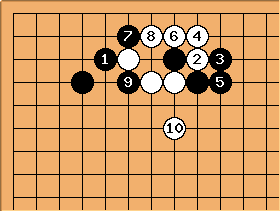 is a severe move: Black chooses to keep attacking the white stones. This sequence was played by Kato Masao against Takagawa Kaku.
---
Author: Andre Engels. Moved from 4-4 point low approach one-space low pincer, upper contact by Charles Matthews