4-4 point low approach, One-space Low Pincer, One-point Jump, Parallel Jump
Reference diagram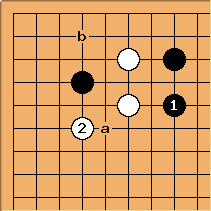 This way of play, not defending the 4-4 stone but developing the pincer, seems to have been popular mainly in classical Chinese games and is a gate to various Chinese classical joseki.
The fighting old-Chinese way for black is to cut aggressively at a. This position sometimes seems to occur even in modern games (though not early in the fuseki -

tends to develop a large moyo), but Kombilo suggests b as the most favoured followup in modern go. (Though the joseki could revert back to Large Opening later.)
---
Possible continuation: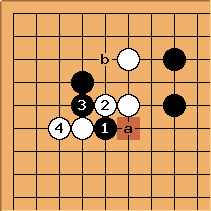 There might be more branching that the listed ones, but the popular ones are a - the Large Opening, and b - the Lotus Flower Opening.
---
[1]
The Large Opening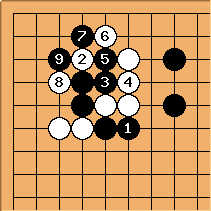 Also sometimes referenced to as "Big Corner Pattern", this difficult joseki was apparently quite popular. It has multiple variations (starting by black 1), only one example variation is shown here.
---
This variation of the Large Opening occurred in a game between Huang Longshi (black) and Zhou Donghou (rotated, colors switched):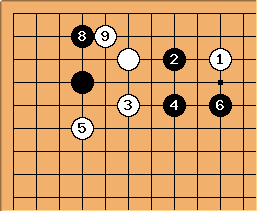 The situation is slightly different because of

. Chen Zude (I think he is the commentator) says that it adds great deal of flexibility to white shape and thus it is wise that black did not follow the usual variation in the end: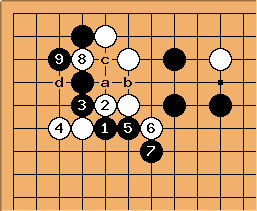 Instead of

, black might push through with a, b, c, but white will set up a squeeze with d and in the end white's top group will have multiple options for escaping while black will be left with troublesome shape in the corner.
Sources