3-5 point, 4-3 approach, one-space pincer, diagonal, jump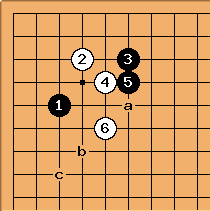 This is the most common result of the pincer at

. Black now has a choice of direction: he can reinforce the top-side group with a, or the left-side group with b or c.
---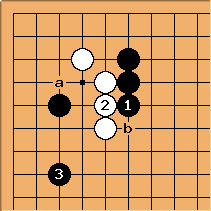 If Black chooses

, White will generally answer at

, after which

is common. White's next move is often to prevent the wall with

from getting a good extension. Leela Zero suggests kicking with a or turning at b.
There is another line to consider here, though.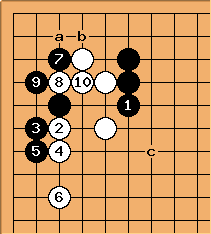 White can resist the peep by playing

.

is the usual response. Leela Zero suggests to crawl at

and then attach at

. After

, a, b and c may follow.
---