3-4 point low approach, two-space high pincer, press, cut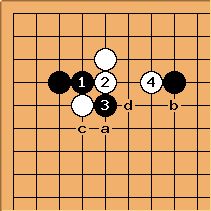 When Black cuts through the White pressing move instead, with

and

, the position will become difficult for White if she fights on the left. Instead

is normal, trying to set up a driving tesuji.
Black has a choice at

a is the common play.
b leads to the driving tesuji.
c and d are also pro plays.
a - the common joseki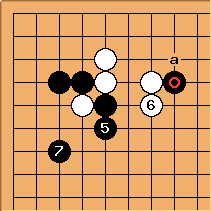 After

net, White at a is honte, but White could consider pincering Black's marked stone.
b - The driving tesuji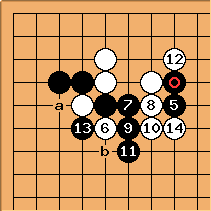 If Black continues with the obvious looking

, White has the driving tesuji to break out. Although White played a tesuji, Black has not to worry as the driving tesuji helps Black to develop the left side - even if his two stones on the upper side end blighted. For

both a directly play at

or at b is possible too. There is room for complications with

at a,
It has recently (after 2005) been seen more often again in professional play.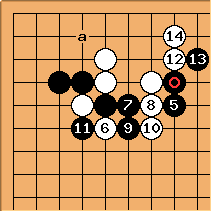 Both given (and some more) variations are included in Takao's Joseki Dictionary.
Why White does attach with ?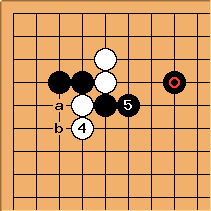 Black's marked pincer stone works so well with

that

here, which is an obvious move according to crosscut then extend, is hard to play. White at a and b have been tried instead.
---
Mostly written by Charles Matthews, WME by Tapir