3-3 Point Invasion which peeps at the tiger's mouth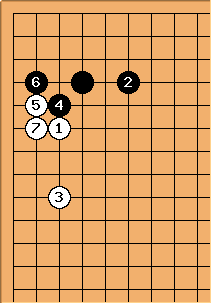 is usually played to keep sente. Sooner or later White plays

, which is usually gote but which has a large follow-up.
---
Connection
---
Resistance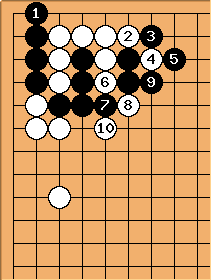 If Black tries to use the special properties of the corner by playing

at the 1-2 point, the crawl at

suffices. Black's attempts to smother White with

-

fail.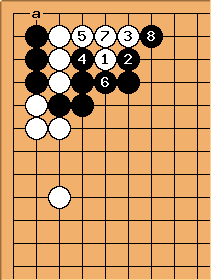 would be a mistake. White loses a liberty.
unkx80: Doesn't

at a win the capturing race?
fractic: I think so too. Also while White does indeed have one liberty less, she does have sente. In the earlier diagram she had one more liberty but Black had sente.
---
MrTenuki (KGS 3k): Please correct me if I'm wrong-- it seems to me that Black could try to trick White into playing the following sequence if he is komaster.