312WS Notcher
Without external liberties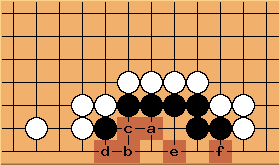 This notcher is just as dead as his brother, the 312WW Notcher. That's provided that Black has no external liberties, otherwise Black can get a ko.
---
[1]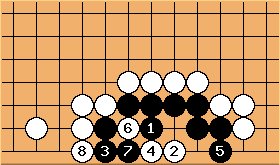 Black first invites a ko, then expands his eyespace as much as possible. The throw-in at

is necessary to reduce it to an almost fill with three.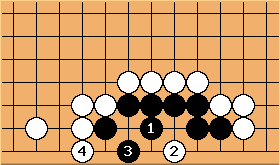 There is no ko.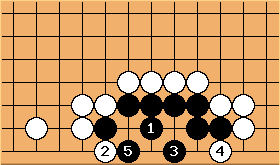 allows for a ko.
---
[2]
---
[3]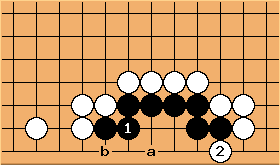 This reduces to a 222SS notcher with White playing first. It is killed by the hane at

.

---
[4]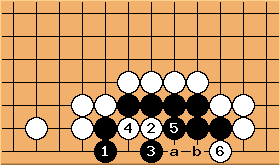 is the vital point, black can answer at

,

or a, but it all fails. Note that

works because Black has no external liberties (Black would put the group in atari if he tries to make a second eye by playing at b).
If Black does have an external liberty, however,

would not work. In that case, White can only go for a ko.
---
[5]
---
[6]
---
With an external liberty
[7]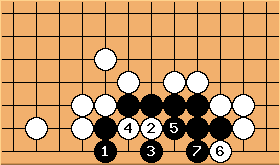 The attack used for the "no external liberties" case is repeated here to show that an unconditional kill is not possible. Since there is one external liberty, Black can safely play

to make a second eye.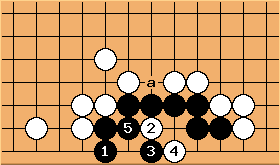 Here is an example of a sequence that leads to ko. Although White does take first, Black may be able to use a as a local ko threat if the escape to the center is possible.
---