Forum for 3-3 point shoulder hit
moved from main page [#2158]
Dieter
:
moved from main page
(
2010-01-21 11:28
) [#7077]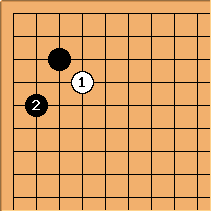 iopq: What about

here?
erikpan: I'm only mid-level kyu but that seems as if it's too low and has little future. White could for example stretch back into the corner, getting a strong wall going facing to the right while black gains little in terms of territory or influence. Line 2 is played for yose and for saving and killing, traditionally; 2 at 4 would not accord with this quite as well as the above diagram, where 4 is used to save.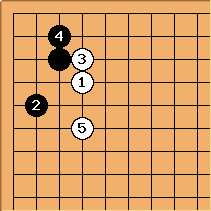 Dieter: this move is not the basic technique against the shoulder hit, which is to stretch. As erikpan points out, it gives an inferior result. If we continue with

-

, Black is indeed kept very low, to the point of even not clearly alive.