Forum for Weiqi Ji - Duan Wei Ceshi
I have a copy but ... (working on diagrams) [#1776]
AKarley
:
I have a copy but ... (working on diagrams)
(
2009-04-03 19:34
) [#5877]
It's the first "book of problems that I've had, or looked at, so I'm not likely to appreciate what's significant. (I know - go read some of the other reviews. OK, OK.)
My copy is in the bag of goodies in the cafe where my go club meets ; it's convenient if one person turns up before anyone else - there is always one - so they can play with themselves.
Is it good? Well, I certainly think that it's been useful. It's format of pages of 1/4 board diagrams (sometimes larger) all as "black to play and do the best" is eminently ; the discussion is all in ideographic script (I'm not even sure if it's Chinese or Korean) and often takes several diagrams to develop alternatives. This format is eminently photocopy-able, and on several of my recent trips away for work a half-dozen photocopied pages and a pencil have occupied me fully for an evening without any alternative but the football <gag, bowf>. Even without the discussion, I can see themes being worked on and I definitely feel the benefit.
Format? see comments above.
Sample
I don't have the book with me, but I was planning on hitting the copier anyway, so I'll do that. Probably one high-kyu problem; one that I'm working on (~9-kyu), and one low-kyu problem.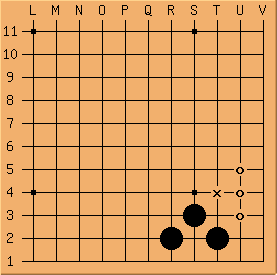 Diagram of book problem
Most of the book diagrams are produced for the bottom-right corner of the board. So hopefully this diagram shows the correct co-ordinates for a full-size board.
Can Sensei's wiki handle 21x21 games? Yes. Not that that particularly matters here.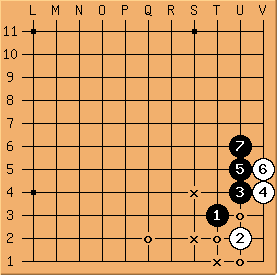 Medium kyu example # 342
Shown is good-for-black up R side ; other alternative leaves a weak black group running between two strengthening white ones.
Unkx80
:
Re: I have a copy but ... (working on diagrams)
(
2009-04-03 19:36
) [#5894]
I edited one of your diagrams. Note that the 'X' and 'O' must be in the uppercase, while 'a' and 'b' must be in the lowercase. Diagrams on Sensei's Library is case-sensitive. For more, please see how diagrams work. Thank you, and enjoy yourself in the library!