TsumegoFromGames63/Evolution-Explanation
What else can we learn from this corner, besides train reading the outcome?
---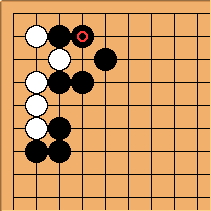 tderz: the hiki

of the tsuke-hiki combination

-

was a good shape move.
---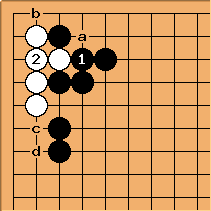 tderz: After the vulgar atari

,
Black must come back in gote and defend the cutting point a.
This gives White just enough tempo to save her group with b + c ("6 on the 2nd line in the corner lives").
Why is

so vulgar, so bad? (in comparision to above

)

First, as explained, it loses a tempo.

Secondly (of course linked) it removes a weakness of White: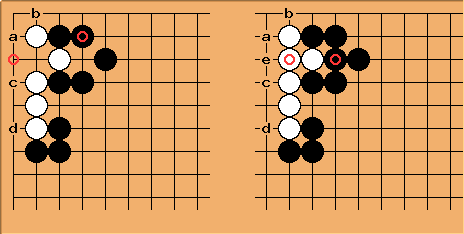 Removal of white weakness
tderz:

is a weak spot in White's formation:
Black can peep there and has the miai pairs a-b and c-d to kill.
Right: The weakness has been removed (it's white's turn on the right side)