Tsumego From Games 44 / Attempts
Tderz: alive as it stands? If white tries to kill s/he suffers mochikomi, on the other hand, if black tries to swallow and live too big, he might die in damezumari of a pseudo-seki [2]. Unimaginative endgame [1] can lead to 5 (up to possible 8) points difference with best play (diagrams [4], resp. [3]).
---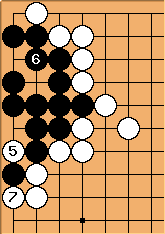 Black has 2 points, White made 1, hence B+1 - W+1 = net 1 point for Black, hence 5 points better for White than [1].

Hence, White's oki-play seems to be a good endgame technique.
---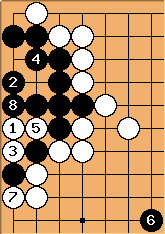 Is this the result? endgame? B+2 - W+4 , hence 8 points better for White than below [1].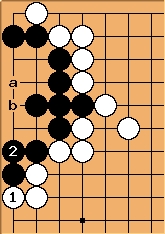 Yet, if white simply plays the unimaginative

, black runs the same risk, when answering with the careless

.


If now white a is answered by black b, everything reverts to dia. [2] above (death).
---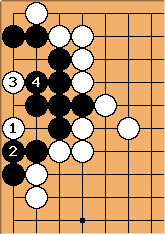 unkx80: Anything wrong with this?
---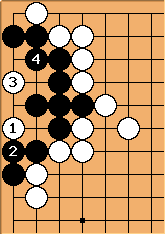 ilan: Seems like White will have to make an inline 4 to atari Black, so this leads to seki.