TsumegoFromGames166/Attempts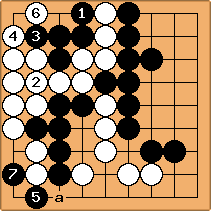 Speedchase: What about

at

?
Reuven: Would W then not play at A capturing those stones and having most of the board?
Herman:

@

and black has nothing?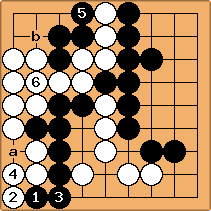 Gabriel: I'd do the Hane at the head of two stones. Closes off any chance of White making an eye around a.

forces

and white is dead.
The problem with this I just noticed is the loss of sente after

, allowing

at b, which could be a problem for Black. Playing

at

could solve this, forcing White to set up a ko at a allowing black to play

, and likewise White dies again.
Reuven: I think something got messed up with the diagram? The W stones are in atari here? (But B should of course play at b now)
Gabriel: I don't think anything is wrong with the diagram. This is how I see it playing out. I didn't see that atari, but it makes Black's job a lot easier though.