Three Liberties Go
ferdi: "Three Liberties Go" means that both Black and White play their stones so that after a move, the stone played, or the string of stones the stone is added to, has exactly three liberites. The number of liberties before the move or after the following moves is of no interest. The normal rules of Go are used, passing is not allowed except if it is explicit mentioned.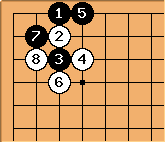 This diagram shows the first moves of a TLG game. Black has to start at the first line of course;

gives White the opportunity to capture a stone with

- without

, White can't capture because his stone would have four liberties after the capture.