Teire/ Solution 1
Black should add a stone (say, at

below) and be satisfied with jigo.
Refusing this even after White filled all dame (at

) loses: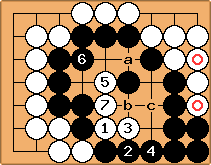 if at , at : a and b become miai
Traditionally, however, filling dame is omitted. How force teire without?
LJRG's solution is that territory only can be claimed if it has no defect. The fix has to be made before game end - without any hint!
---
Bildstein: This is a great problem. I was convinced B didn't have to play :)