Sz'Kwa
Sz'Kwa is a sort of primordial variant of go. It's played in southern Taiwan.
An example of the board is given in

here. The game also has a Wikipedia entry

here
The board doesn't really work in sensei's formatting. In the board below, you can play on any of the circled spots. Ignore the black dots.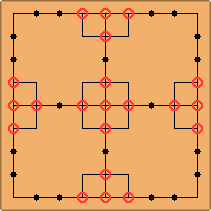 Each player has 20 stones. The rules are as in Go, but the loser is determined either by the smallest number of captures during the game, or by a player running out of stones. Territory is not relevant.
Ko repetitions aren't banned in the rules as you eventually run out of stones.
---
Sz'kwa is mentioned in "The Alien IQ test" by Clifford Pickover, ISBN 0-486-42007-8. This book challenges the reader to extend the game into higher dimensions. Conceptually, this is quite elegant in 3D, but mind-boggling thereafter. For some reason this book says each player has 25 stones rather than the 20 given in other references.