RTG Problem 62 / Solution
The status is: If White first, White lives unconditionally. If Black first, Black kills unconditionally.
The first part is trivial. Now to show the second part.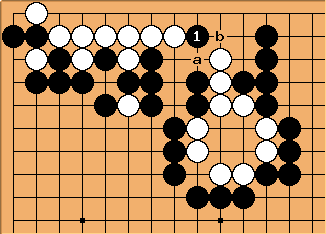 This problem can be solved using pattern recognition. The top edge has six stones on the second line, and the shape nearest to the center has only half an eye. To prevent White from making two eyes,

is necessary to stop White from expanding his eye space. After

, a and b are miai. Perhaps some readers have a deja vu feeling...