Onchan School Go Club
Onchan School Go Club meets once a week at lunchtime.
Richard's recommended links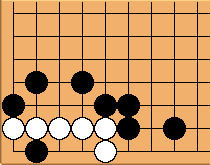 Go to the page for this problem and its solution BeginnerExercise1
From there, you can continue with further exercises.
For all students

Interactive introduction to basic concepts. (Uses Java)
Start at the beginning (50 kyu problems) and work down. Slow down if they start getting difficult.

Getting stronger

For students who joined recently

Catch-up on initial introduction for students who joined later. Nice introduction to 9x9 go and capturing stones.

Comic introduction: online version of the little booklet given out in class.
Sites for advice and self study

British Go Association
Sensei's library


Goproblems.com (needs Java)


GoBase Korean problems (need to register?)

Go programs

Online program for capture go (Uses Java)


Online program for 9x9 go

Free downloads for Windows, described on the

BGA site
Direct link:

Igowin
Direct link:

Leela lite
Online go servers
Recommended server:

KGS (needs Java).
Play human opponents online and chat by typing. You can play using a browser, but download the client if you plan to use it a lot.
KGS – Rooms – Room List – Lessons – Beginners' Room