Net Example 4 / Discussion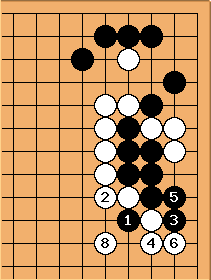 ProtoDeuteric- For the sake of a tangent, if black next plays tenuki, white can set up another net with

before considering the semeai on the side. In fact, that net could be played even after white won the semeai.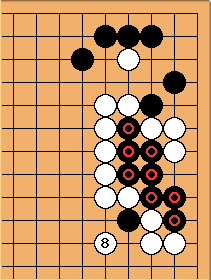 unkx80:

is a wasted move, since the

stones are already dead.
ProtoDeuteric- Even though I understand that the

stones are already dead, why is

wasted? Doesn't it gain white at least two points as a guaranteed eye? Perhaps there are more pressing issues at hand elsewhere globally, but locally this seems like an okay move to make.
Mef: It does make white 2 points but that is most likely much too small to play at this point. White doesn't need to worry about eyes here because after capturing

there will be no way for black to reasonably kill.

is one of those times when the proverb Play away from thickness comes to mind.