Leather Scroll Problem 90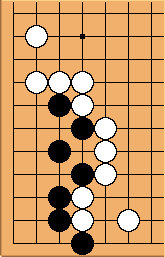 There are two solutions in the book. (different starting moves by white). Centuries later, Panda Sensei says there is only one effective attack.
JohnF This is completely misleading as regards the original. The Celestial Arsenal does give two diagrams but one is a failure. The other correctly gives the ko. We know ko is the desired solution because of the title: Pines and chrysanthemums keep their fragrance, i.e. the solution goes on an and on like a ko. Poetic whimsy of this kind is a very common trope in the old manuals. The ko solution is also given in the older Xuanxuan Qijing, though with a slightly different starting position.