Sr76 - You might have used a trick here cause I can't see how to kill white.
Now W under 6, what can black do? - B answers left of 6, W can now connect to the lower left group - B answers under 7, W kills left ok 6 and can connect or make 2 eyes - else where seems useless also
---
QWerner I think this will be on solution. White can not escape. I tried some other variantions but no one works for w.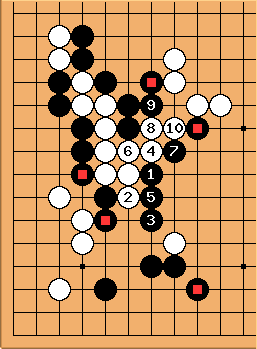 11 right from 9, 12 under 2 and 13 under 12.

Malweth: It really is a ladder :) White almost escapes, but Black has a squeeze tesuji.
---
QWerner: Right Malweth, you solution from W is stronger than my first solution. So I tried not to use "W's Strongest response".
How about this variation. I found a solution where B has to capture 19 stones. I didnt post it because I am not shure if B played proper.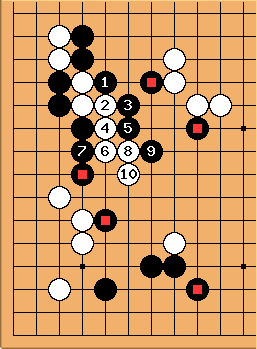 QWerner:May be this example should get a new side. I think this example do not belong to the title "Edit Ladder/reading techniques"

Malweth: Probably... it's not really a technique, just a ladder/net tesuji problem. I'd place it on the order of a "B" level problem from the Segoe Tesuji Dictionary.
My solution for the Variation:
---
Another problematic variation: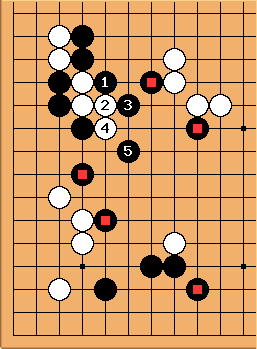 unkx80: Since Black has no direct ladder... why not this?