KyuExercise34/Attempts
Mef: I've stared at this for a while, and the best I can find is a sente reduction for white: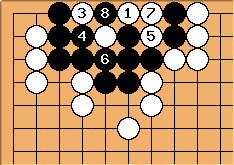 looks like the only move because otherwise back gets an easy eye.

forces

, and after

, all white can get from this is capturing the 2 stones.
---
JoelR: I think White can kill. Black

above doesn't work, because White can fill, leaving a dead shape. Black must eventually fill the weakness at

.
Mef: If black immediately fills , then black will have 2 eyes by capturing at A. If white plays A, then it's no longer a dead shape and black lives by capturing at B