Kyu Exercise 116 / Solution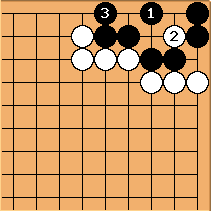 This looks a bit like the bulky five. So

makes miai of

and

...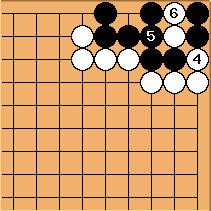 makes a double atari.

connects...
And

isolates two white stones. If White captures by playing in the corner, Black will take all three in a snapback. If White plays elsewhere (for example, a, putting seven stones in atari), Black plays in the corner to capture two and form a second eye.
---
White makes an atari with

. After

throw in at

. a becomes a false eye and black is dead?!
Alex Weldon: This shows a misunderstanding of what a false eye is. The throw-in accomplishes nothing... if White ever ataris at b, Black just captures the throw-in stone (by playing at the marked point), and both points a and

are real eyes for Black.
---