JGroup application 1
Fhayashi - Just bought the three volume edition of the Segoe Tesuji Dictionary, through the amazon.com.jp route suggested by PatrickB. In addition to the wonderful contents, the books have the nice feel of Japanese books. In addition to the usual built-in bookmark thread, these books have a second bookmark thread so you can keep your place in both the question and answer sections.
I was browsing through it last night, when I came upon a problem in the sagari section:
---
The answer was given as: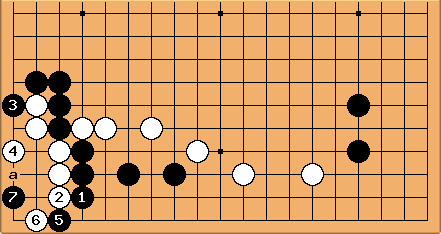 The problem is, I can't figure out how to respond to White at a. No matter how Black plays, White seems to get two eyes in there.
I've re-read the text next to the problem, and I'm pretty certain that it says White is dead if Black plays properly...
Can anyone show me what Segoe sees in here?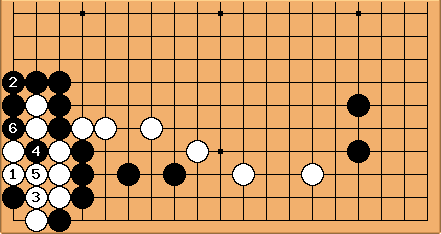 Zook: Standard J-group sequence. If

at

,

at

.
Fhayashi: I swear, I spend more time puzzling over the answers than the problems...
---
See also: